Well, okay.
Maybe the Bolts had lost 4 out of 5 previous games before stepping onto our ice this evening.
Maybe the Lightning aren't exactly what we would call "worthy opponents."
But really, when your L10 is 4-5-1 and Washington is out there with an L10 of 8-2-0 and a 6 game wining streak, you've got to take the wins where you can get them.
(We don't mean to fall into the trap of comparing the Pens to the Caps, but really, looking at the league the only other people to really worry about are LA and Anaheim, and lord knows if we start worrying about the west coast this early in the season we are just going to drive ourselves insane. Also, we will not dignify Detroit with a response.)
We're going to take the wins where we should be getting wins, and be happy with that.
Marc-Andre, you can sleep in the bed tonight, but be careful because you are one slip-up away from couch city again.
Let's see some awards.
PEOPLE WHO FORGOT THIS WASN'T A PLAYOFF GAME
Press momentarily forgot that it wasn't supposed to be taking ridiculous glam shots of the arena and dramatically lit player shots just yet.
Did someone tell the press that it's only November?
Because we think they're a bit confused.
However, that there shot of Markey-boy is pretty clutch.
Too bad you guys couldn't stay around for the rest of the game…
MOST OBLIVIOUS GIRL
The first period is going kind of slow, and I am suffering from what I call "holiday delight."
Every year, around the joyous holiday season, liquor stores nationwide start to plan their attack against me by selling gift sets.
Seeing as how I have recently replaced drinking with more pleasant recreational activities, I am unhappy when I have to start buying things just because of the free shit they come with.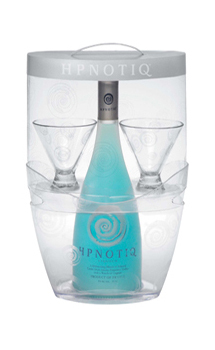 Hpnotiq, you are spelled stupidly and I hate your taste, but those awesome swirl glasses AND an ice bucket?!?!?
Knob creek, do I really need another mixer AND a jar of marichino cherries?!
Left and right. Everyone is offering me a free flask or a free shot glass or mug or martini glass, and lord knows I am a sucker for glassware.
I am one credit card away from a special on A&E.
Before I know it I am sitting here naked wrapped in a sheet, drinking Hpnotiq and Tullamore Dew (mixed) out of a cactus-stemmed margarita glass from the dollar store because I NEEDED THOSE WHISKEY GLASSES AND GOD DAMN THOSE COCKTAIL SHOOTERS ARE SO CUTE and I am recapping a game and realizing that the first period of this game didn't mean anything to anyone unless brother Steven finally realized that he should do fewer incriminating things because his google image search results are pretty awful.
If this isn't the front of a homosexual porn magazine, I don't know what is.
Anyway, no matter how many shots I have done by this point, this period is the Most Worthless One.
THE TIME THE TELEVISION (OR LIVE GAME) GAVE YOU MORE RAPID, SIMULTANEOUS ORGASMS THAN YOUR SIGNIFICANT OTHER COULD EVER MANAGE
By the second period you are Srsly!Distressed!.
We are playing the Lightning.
Your little brother's mite team once took on half of their starting lineup, and lost in triple overtime.
Why aren't the Penguins already 22-0?
Wat…wait…
Well. 2-0 is the least we can do.
In 27 seconds, everything turned around and suddenly the Penguins were the team we remembered from the days of old.
A few new folks, a few missing faces, but a team we can love and respect and grow to love more and more every day.
THE WARMEST WELCOME HOME
…Goes to MAF's skillz in net.
Around this time we are realizing that the first period was not a fluke;
MAF may just be back.
Fuck da h8erz.
RELATIVE WE ARE MOST LIKELY TO "ACCIDENTALLY FORGET" THIS HOLIDAY SEASON
Brother Steven has, in years past, asked for such gifts as:
NailWOW
His own personal cotton candy machine.
Sea Monkeys.
This year we may just forget him if he keeps up the sort of behavior he displayed tonight in the third period.
Boooooooooooooo.
MOST SWIFT AND TERRIBLE RETRIBUTION
In about 6 minutes time:
(wut, srsly?!?!?)
(Fattest face ever, Mister Crosby. Tsk tsk.)
(Poppin' the cherry just got sexier.)
We, as a team, don't take well to some little ratfink trying to outshine us.
Try it again, Brother Steven. See how easy we take it on you a second time.
You'll never see cotton candy again in your fucking life.
INDIVIDUAL AWARDS
TOTAL NEWBZ
This image was captioned:
PITTSBURGH – NOVEMBER 12: Evgeni Malkin #71 of the Pittsuburgh Penguins handles the puck against teh Tampa Bay Lightning at Consol Energy Center on November 12, 2010 in Pittsburgh, Pennsylvania.
What press website still makes the legitimate "teh" mistake?
THE HELLOOOOOOO CAPPY AWARD
Srsly, sir, we would follow you to the ends of the earth.
ALT THREE STARS
LIKE WE NEED THEM LOL RITE
The Pens needed this win. We need to win games where we NEED to win games, and losing against the Lightning is not an option, even in the slightest.
Unfortunately the Thrashers come next, which are also a MUST WIN game.
We'll start to see the real meat of the league soon.
We'll take out time using stepping blocks until then.
Welcome back, MAF, we have missed you.
Keep it up.
Stay strong, guys.
We mean the team and the fans, of course.
It's our season, after all. We all have to work for it.
Keep the faith strong.
Go Pens.