Kim got the flu. I think she got drunk at Happy Hour and went into an alleyway where 18 dark wizards were making "whiz" for a batch of Philly cheese steaks, and was Hexed.
18 dark wizards is the appropriate amount of wizards to corrupt a block of cheddar into whiz. You didn't think Flyers fans were just that awful on their own, did you?
This is Kim's boyfriend. She got the flu and I am going to Hockey about the Hockey, because if Kim has to leave the bed she will start screaming about how she needs Jack Daniels and Robitussin and I am trying to be responsible here, God Damn You All.
Things about me: Before I met Kim the only thing I knew about hockey was that Canadian boys used it as a safe avenue to vent their homosexual tensions. Now I know pretty much everything. She has a post it note I made her at work that lists all 31 professional hockey teams, including the Muskrats, who last we heard are doing a tie in movie deal with the Chilean miners.
ARE YOU READY FOR SOME INCOMPETENT HOCKEY REPORTAGE?
Don't tell Zoe about this.
MOMENT YOU BARELY REMEMBERED BY THE END OF THE GAME
53 seconds in Legwand scores for the Preds, on account of the distraction caused by their extremely correct bootlaces. Breast cancer, this goal was for you.
Making fun of the laces is like making fun of cancer, so I'm going to refrain. But I shouldn't. (Haha what a bunch of gaywads what in the fuck)
CREATING THE GLORIOUS PATH TOWARD VICTORY AWARD
Evgeni Malkin responds (late enough to cause concern) with the assist from the guy who is dating Hillary Duff. In his quiet moments, Geno sits and thinks about creating Feasts prepared from the flesh of his Enemies.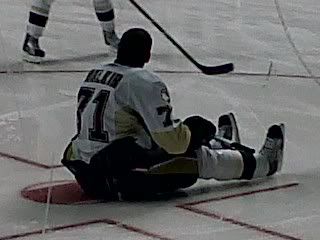 Hair league points for all involved! If you are bleeding in public, make sure you are not downwind from Evgeni Malkin.
PLAYERS FOR HOCKEY TEAMS THAT HAVE A QUESTIONABLE RIGHT TO EXIST AWARD
Isn't Nashville basically a fucking prairie or some shit? Who told Nashville they could have a hockey team? The Ducks I kind of understand because that's Disney, and if the Saudis can have gardens in the desert, Disney can have a hockey team in Anaheim. But who sponsors the Preds? The Grand Ole Opry?
Franson scores. 2-1 Preds. Kim was screaming. I think I was eating a pork chop.
SCREAMING EAGLE AWARD FOR GOALS THAT LOOK REALLY UNLIKELY BUT THEY HAPPEN
Guitar solos and bitches poppin' out the Escalade and champagne! I don't think this describes Sidney Crosby's lifestyle at all, but it describes my feelings about this picture and I am the Captain of this ship right now, so you will all have to huddle below deck as I stomp and storm and rage and steer us into a Typhoon.
HORNQVIST HORNQVIST HORNQVIST
A name that is almost as stupid as this outfit should not be allowed to have goals.
What's with these homies? Kim was seeing the End of all things and denouncing the Lord at this point. I think I had moved on to post 'chop nap time.  3-2.
RELEASE THE KRAKEN
Geno undresses a couple of dudes and wings it to Sid and Sid's like man what the fuck and Obi-Wan comes to him and is like listen there is an exhaust pipe in the Death Star and if you shoot a missile into the hole it will somehow explode the entire Death Star instead of just causing some minor damage in the section into which it was fired now just stop listening to that little penis shaped bugger that keeps beeping at you and use the Force.
3-3. WE GO INTO OVERTIME
OH MAN WE FINALLY GOT TO THE CASTLE NOW WE JUST HAVE TO KICK DAVID BOWIE'S ASS AND GET THAT BABY BACK
DANCE MAGIC DANCE MAGIC DANCE MAGIC DANCE
Look, I'm not really as into hockey as Kim is. If a Hockey is going to go past the normal amount of time, I have to make a partial retreat into something that makes more sense to me, like David Bowie's magic pants and his castle full of rooms that are meant to abuse Jennifer Connelly. I wish David Bowie would take me to his castle. I would stay forever.
WE SAVED THE BABY BUT OUR HEARTS ARE CHANGED FOREVER GOD DAMN YOU DAVID BOWIE
Letang scores in overtime it's brilliant everyone screams. 4-3. Breaking a six game losing streak on Predator Ice.
Also that #7 is not Mark Eaton, which I just learned. Mark Eaton now plays for the New York Islanders. Whaaaaaaaaat.
OKAY SO WHAT'S UP NOW
Things being this close with a hockey team that barely exists is not acceptable, as far as I understand it (even though the Pens apparently never do well in Nashville, so go them.). The Pens are going to look back at this and be like man fuck this shit we are going to start doing some serious hockey and then they'll have a game against the Capitals that they'll start by skating in figure 8's and Ovechkin will be like "It looks like I will have to use my poison tipped hockey stick tonight" and he will poison Sid but Sid will be okay but the Pens will band together and defend his honor by winning the Stanley Cup and then every Stanley Cup in succession until the end of the time, because this is what my girlfriend wants more than anything else in her weird and currently not very pleasant life, and so she will get it.
Go Pens.