Expectations are brutal things that should be kept under wraps. Being happy to see the Pens acquiring some offensive players is about as high as you can allow yourself to get. A lineup full of players that aren't used to playing with each other isn't necessarily going to bring the awesome tape-to-tape shit. You'd believe it the way Kovalev was passing tonight, but no, we're only pretty recently into this relationship, this situation.
There are a lot of ways to look at the second half of this season. The summary would seem to be: Pens can't catch a fucking break. Ever. Tonight was just a continuation. But there are things to consider, things to celebrate. Don't be stupid. You're a Pens fan.
WORST BEGINNING
Basically shouldn't have had any major thoughts about the Pens having an amazing night and Kovalev scoring 9 goals because someone we've never heard of named Harrison scores for the Canes in like 4 seconds.


We've never heard of Joslin either but his name was said at least a hundred times. Bad signs.
1-0 Canes.
The rest of the period is basically like a guy's dick doing way soft right in the middle of sex.
Frustration. Joe Corvo gets some PP goal. When the penalty kill isn't getting it done the Pens don't have a chance. Cooke ran some interference that lead to the power play. The optimist in you has a James Neal natural hat trick predicted for the second. Death.


2-0 Canes. Should we even play the rest of the game? The answer is yes.
MOST UNEXPECTEDLY ADORABLE INTERMISSION
Potash interviewed Brian Strait and he was like gaaaawww. Looks like someone you went to high school with. We forgot to take a screen shot, but there is other evidence: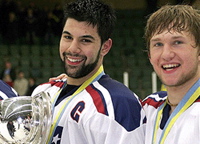 repeat: gaaawwww. Hope?
MOMENTS WITH MOST INTENSE RAT BASTARD OVERTONES


Even with the incomparable Joe Vitale in his face, Cam Ward still manages to make All of the Saves. Kovalev runs the PP like a boss, not that we have any visual documentation of that, but trust us: it was cool. Kovy could hit a dude in a yurt in Mongolia with a pass and the dude in the Mongolian yurt would be totally stunned. Kovalev saving the team, basically. He, Staal, and Letang all over all things, but Ward is there or the net is missed, causing death and destruction for all. Then Erik Cole shows up, making it even more painful. Mongolian dude in the yurt probably tries to feed the puck to some migrant animals.


3-0. uggggh. there is still no god. Curry in exile.
Bylsma puts Johnson in net as an apparent method of telling his team to stop this shit.
SOMETHING ELSE I COULDN'T SCREENSHOT THAT WAS AMAZING
Craig Adams putting tiny tiny hockey gloves on Rhys Adams and tiny tiny Rhys Adams skating with all his equipment on. fjklsjfkldsjfldksjflkd;safjdkslafjdklajfd;fjldksjfds;ajfsklafja;
GOAL TO WHICH WE WILL GIVE RHYS ADAMS AN ASSIST FOR MORALE PURPOSES
Trying to haul your ovaries back into yourself. Then Pascal Dupuis finally scores:
Only photo of this goal and he isn't even in it.
3-1 Pens. . .we can totally come back from this, right?
ACTUALLY, WE CAN'T
If the Pens don't score again, Steigerwald is literally going to have a heart attack. He says "COME ON JAMES NEAL" at the end of the 2nd. Neal doesn't score. He says "COME ON ZBYNEK" in the third. When Michalek finally scores a goal Paul is going to lose his shit literally. He will poop himself.
Nothing is happening at all and Canes have unlimited everything. Pens' puck possession tends to go for naught. Weird things continue to happen.
Some idiot, we think Corvo, hits Ktang in the head and then teabags him repeatedly while the Canes rush up ice for a 2 on 1. Ballsack in Kris's eyes as Jussi Jokinen scores:


Bad news bears. 4-1
quit life for awhile.
Pens lose.
INDIVIDUAL AWARDS
BEST FACIAL EXPRESSION BY JOE CORVO

JAILBAIT


Jeff Skinner
ALTERNATIVE THREE STARS
1. Kovalev – offensive talent on the power play? we don't remember.
2. Kris Letang – survived teabagging 101
3. Zbynek Michalek – had an assist. party.
WEIRD BACK TO BACK GAMES IN TORONTO NOW.
suck us
go pens.