We insist that you accept this photo as proof that Kim and Zoë are together (along with cohorts Nikos and Jon) in the viewing of this game.
Our spirits are in the forms of Bob Errey, and Joe Vitale (who is apparently "going at" Nick Foligno right now).
We also have a cat. His name is Steve.
"A couple of Italians going nose to nose there!!!"
This is real life.
We're making tea. We can probably include alcohol in the tea.
Any advice?
There aren't any pics up from this game yet. So here's a picture of Ken Hitchcock. Who appears to have lost some Weight but no Skin.


Gobble gobble.
We're sorry Jared Cowen that we have to destroy you.
And we admit that we have no idea who Kaspars Daugaviņš actually is.
We miss Gonchar.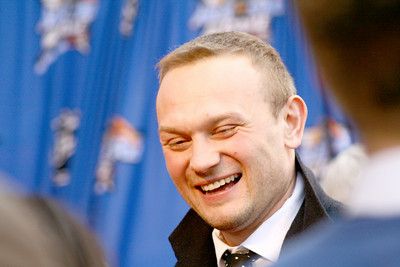 and we do in fact steal bandwidth from talk-sports.net
DOES SERGEI GONCHAR HAVE A GIRLFRIEND
DISCUSS WITH YOUR FRIENDS.
The goal is to become belligerent.
Go Pens.